Circle Star News
Tuf Cooper and Topaz (Big Smokin Otoe) win at the NFR in Las Vegas
December 13, 2014, Las Vegas, NV.  Tuf Cooper and Topaz win the NFR Rodeo in Las Vegas, Nevada.  At age 24, Tuf Cooper, a five-time NFR qualifier and son of PRCA hall of famed, Roy Cooper, riding Topaz (Big Smokin Otoe, owned by Circle Star Land and Cattle Co., Pontotoc, TX) were the money leaders and the air to beat going into the National Finals Rodeo.  Tuf and Topaz didn't disappoint; they placed in three of the ten rounds, won a round, and won the average - all of which, along with their lead going in, propelled them into first place and the world championship.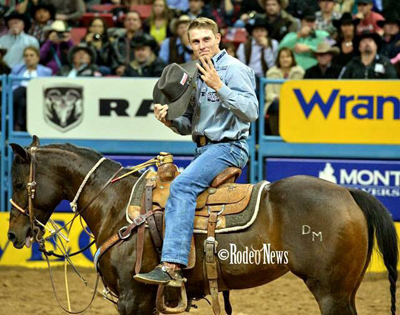 Seconds after a successful run in the tenth round of the NFR, Tuf signals his dad, Roy, "three."  Three world championships!  Topaz was taking it all in, in her typical, unflappable style.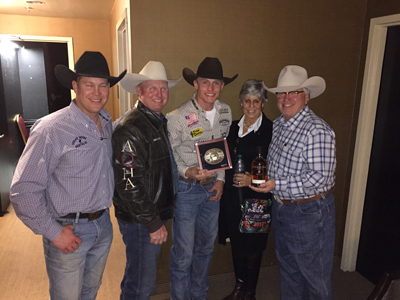 After winning the 8th go at the NFR, Tuf poses with (L-R) Josh Harvey, DVM, James Barton (Topaz' trainer), Tuf Cooper, and Sheila and Cecil Rhodes of Circle Star Ranch, Topaz' owners.
This is what Tuf and Topaz worked for all year, Tuf's third buckle.  Sure is a beauty!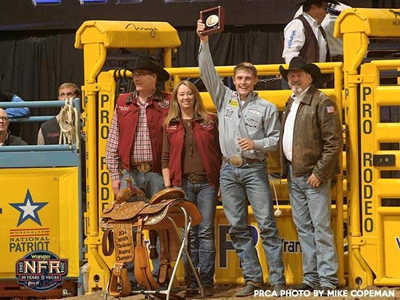 Tuf at the honors presentation in the arena after the NFR.
Also, at the NFR, Sheila and Cecil had the pleasure of visiting with Great American Storyteller, Songwriter, Movie Star, and TV Personality,  Red Steagall.  Red had a prominent roll in Cecil and Sheila's favorite documentary, GATHERING REMNANTS, A Tribute to the Working Cowboy.
At the party after the last round, Cecil and Sheila visit with Trevor Brazile, rodeo's most-decorated pro.  After this 2014 NFR, Trevor has 12 all-around world titles and 21 gold buckles.  In addition, he is an all-around nice guy!
Reno, NV.  Bobby Lewis rides CSR Lay Down Sally to Futurity Limited Open Championship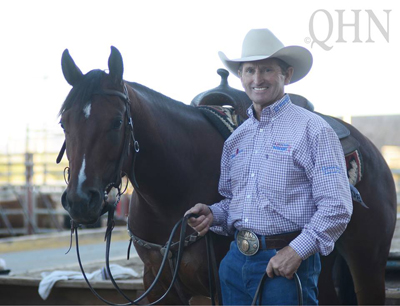 In the Limited Open division, NRCHA, the Futurity Championship went to CSR Lay Down Sally (Dual Spark x Look At Her Glo) shown by Bobby Lewis of Overbrook, OK and bread and owned by Circle Star Land and Cattle Company, Pontotoc, TX.  Our phenomenal mare scored a 647.5 to take the win, which paid just over $12,000.  Dual Spark was the reserve champion at the 2014 World's Greatest Horseman and, among her many championships and winnings, Look At Her Glo is the 2008 AQHA World Champion heading, and high point horse of the year.
Bobby is quoted as saying, ""It's awesome. It's nice to be mounted as well as I was, and be in the company of all the great horses and have the camaraderie of all the great folks here," he said. "She's been a pleasure to ride the whole time. She's been easy to train. She's a hard worker and a nice mare, with a good mind and talent like her father and her mother..Lewis said the challenge of developing a Snaffle Bit Futurity finalist is more difficult than ever, as the caliber of horses and level of horsemanship steadily increases. "The three events – it's tough to get them ready and it takes a special horse to do it all."
CSR Lay Down Sally ridden by Bobby Lewis - 2014 Snaffle Bit Futurity (Cow Work IO/LO Finals) from NRCHA Video on Vimeo.
CSR Lay Down Sally ridden by Bobby Lewis - 2014 Snaffle Bit Futurity (Rein Work IO/LO Finals) from NRCHA Video on Vimeo.
Circle Star Land & Cattle Co.
Circle Star Ranch
Pontotoc, TX 76869
Tel: 325.251.6688 - Toll Free: 866.297.2752 - Cell: 325.320.3250 - Fax: 817.887.1215
Email: ranchmanager@circlestarranch.com
Home - Philosophy - Stallions -Prospects - News - Gallery - Horses For Sale
© circlestarranch.com , Website designed by Jessica Mather Marketing